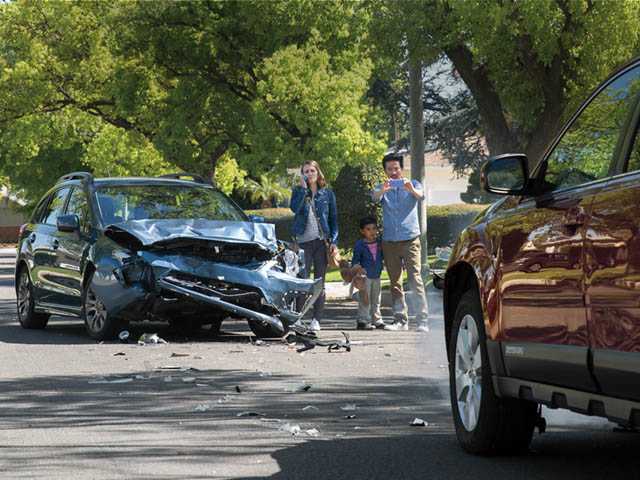 Has a car accident put a dent in your day? Being involved in a car crash can be extremely stressful and exhausting. We've created this list to guide you through the steps.
Post Collision Tips
In the event of an accident aboard your Subaru, following these recommendations can help you.
If the vehicle is still drivable, pull over into a safe area, contact the police, and ask for emergency vehicles if necessary.
If your vehicle is equipped with SUBARU STARLINK, you can press the red SOS button in the overhead console to request emergency assistance,
Gather your driver's license, registration and insurance information while waiting for the arrival of the police.
Collect the names and phone numbers of the individual involved, including eyewitnesses if possible.
Use a camera (on your phone for example) to document the vehicle(s) ad damage at the scene,
Notify your auto insurance provider.
Your local Subaru Retailer can help direct your to the nearest collision repair facilities, or you may contact Subaru Roadside Assistance* at 1-800-216-2155
knowing your rights as a Subaru owner
Whether your bought your Subaru new, used or leased, automotive insurance in required. When you contact your insurance agent/company after an accident, it is important to know the customer rights that are included with any automotive insurance policy.
Your insurer may recommend a repair facility, but you have the right to decide where to have your Subaru repaired unless that right is limited by your insurance policy.


you may request that your insurer and repair facility agree to use only Genuine Subaru Collision Parts when making any parts replacement.
For more information about collision parts, repair and your customer rights, visit: crashrepairinfo.com
Why choose Genuine Subaru Collision Parts for replacement
The type of replacement parts used to repair your vehicle after an accident can make a substantial difference. We strongly advise against using, generic, recycled or non original equipment body panels, bumper or other parts when replacing damaged ones. Doing so may affect the proper operation of the vehicle's crash avoidance capabilities if equipped with Subaru Eyesight.
Original fit and appearance
Genuine Subaru Collision Parts are the perfectly fitted replacement option guaranteed to restore the original appearance of your Subaru vehicle. Generic parts may use difference materials and manufacturing techniques the cause their finished products to reveal uneven or misaligned bodylines, creases, gaps, faulty trims, etc.
Safety-tested
Genuine Subaru Parts and identically engineered to meet the same strict safety and quality standards as the original equipment parts of your vehicle. Our commitment to safety in continually proven through strenuous independent vehicle crash testing with original parts performed by the NHTSA, NCAPP and the IIHS.
Built to Last
The durability of genuine Subaru parts can be traced to the quality materials that are used to manufacture them. Engineers have tested Genuine Subaru Body Panels against after market versions in simulated, real world, rust causing conditions to demonstrate the differences in the type of protective layers that help prevent corrosion to sheet metal. Other tests have shown the Genuine Subaru Replacement Bumpers have exceptional low speed impact and concentrated impact resistance than aftermarket replacement bumpers.