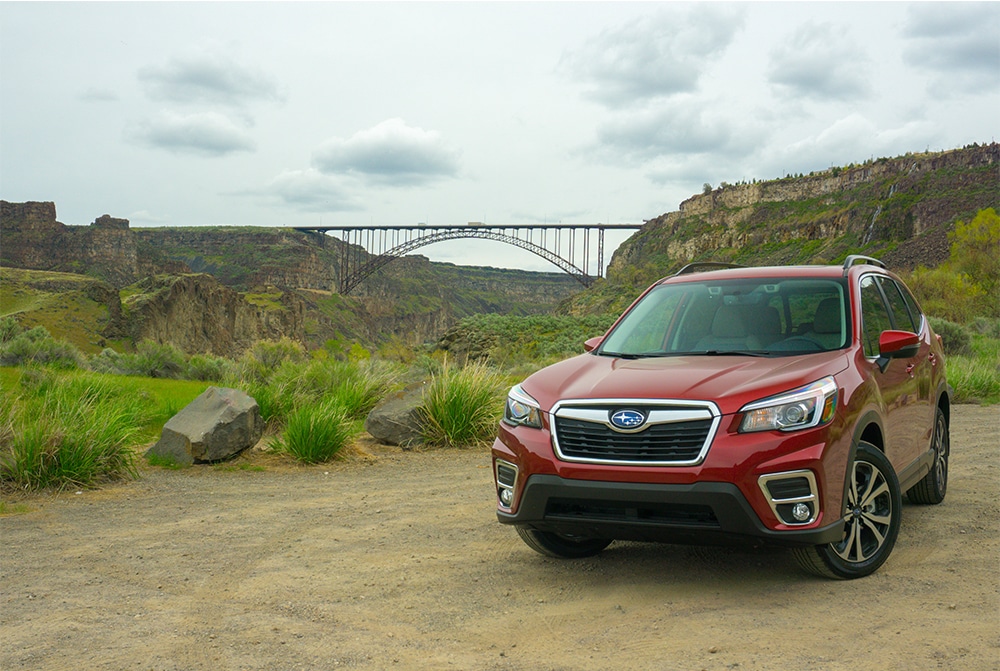 There is a reason why Subaru vehicles are well-known for their capabilities. For decades the Symmetrical All Wheel Drive has been offered as a Standard Features on all Subaru models (BRZ excluded).
The Symmetrical AWD lets you drive with more confidence, more control, and more enjoyment behind the wheel.That's why Subaru vehicles are so common in America's toughest climates. In snowy, icy, wet, or slippery conditions, there is no substitute for the feeling of control you get with Subaru Symmetrical All- Wheel- Drive.
Unlike other AWD systems, it continually shifts power to the wheels that have more traction from the wheels that don't, so you'll always have the upper hand against the elements.
However, you don't always need bad weather to appreciate the benefits of the Symmetrical AWD system. With a constant application of power to all four wheels, even in dry road conditions, the Symmetrical All Wheel drive allows you to avoid common problems such as oversteer and understeer, giving you a feeling of balance and instantaneous response.
In short, Subaru Symmetrical AWD gives you the feeling of safety, precision and confidence you don't get with other vehicles, so you will feel connected to the road like never before. It's no wonder why Subaru is a leader in AWD technology, and the brand people trust for making the most of life's adventure.For more info the Symmetrical AWD and see how it compared to other vehicle, check out the
AWD showdown
.
Safety Features (EyeSight)
Subaru is committed to Safety, and that was the key objective behind the development of Eyesight. Offering greater peace of mind and convenience. Subaru vehicles equipped with Eyesight, receive the highest possible rating for front crash prevention from IIHS.
Like a second pair of eyes for the road ahead, EyeSight is a set of technologies that warns you when there is potential danger. It consists of pre-collision braking, pre-collision throttle management, adaptive cruise control, reverse automatic braking, and lane departure assist.
Eyesight is not a substitute for safe driving, but it will give you an extra level of awareness. Subaru eyesight is an extra set of eyes, every-time you drive, and starting in 2019, Subaru Eyesight comes standard on most Subaru models.
Subaru X-mode combines various driving aids such as hill-hill-descent control, transmission mapping and traction control to give the driver more confidence in slippery driving conditions.
It utilizes advanced technologies to maintain control and momentum, even if the worst driving conditions. By sending power to all four wheels, adjusting from wheel to wheel depending on where traction is available.
It also features a hill descent control feature which helps to keep the vehicle at a consistent speed while driving down hill.X-mode also increase driving capability over rough terrain by using the transmission control unit to send up to 25% more AWD pressure to the front or rear wheels.
The Subaru Boxer Engine powers every vehicle in the Subaru line and is renowned for its superior balance, smoothness and power delivery.
Subaru firmly believes that the Horizontally-opposed Engine is the optimum design for driving enjoyment. The pistons face away from each other in a 180 degree symmetrical layout around the crankshaft and work to balance out each other's vibration, delivering a smooth, shudder free feel.
The Subaru Boxer engine is mounted lower than traditional in line engines, giving the car a well-balanced feeling on the left and right of the vehicle. It also lowers the center of gravity of the entire car to deliver a safer, more stable and more enjoyable driving experience on the road.
When you combine the best AWD system, rugged good looks and an 8.7 inch (ca. 22 cm) ground clearance, you get a vehicle that is not only great on asphalt road but also phenomenal offload, making it perfect for outdoor enthusiasts.
You will not have to think twice about adventuring off-road in search of a new trail head or the perfect camping spot, the Subaru lineup (especially the Outback, Crosstrek and Forester) will take you anywhere your heart desires.
Just in case you needed another reason to understand why Subaru vehicles are so special, Subaru has been recognized on many occasion, and received the "Best resale value award" from Kelley Blue book. It's no wonder the Subaru fan club keeps growing more and more each year.
According to KBB, the 2019 Subaru Outback resale value at 36 months is 59% and 45.2% at 60 months!